Hardwood floors have the ability to add earthy elements to your home. They're warm, welcoming, and offers a sense of natural beauty. Besides their aesthetic benefits, hardwood floors are also durable, timeless, and with some extra TLC, can last nearly a lifetime!
We are dishing out all of our floor care secrets so you can better maintain your hardwood floors and keep them looking fresh for longer!
Tips & Tricks for Hardwood Floor Care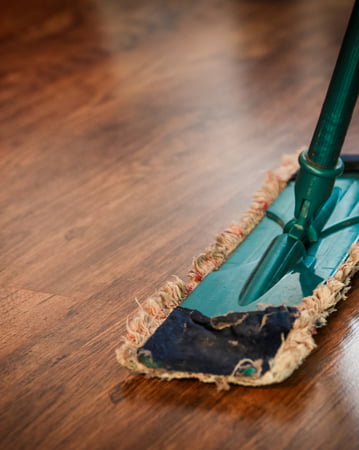 1. Dry-dust mop or sweep in a back and forth motion to prevent dust, soil, sand, or small stones from scratching your hardwood. This does not need to be an every day task but should be done when necessary. If a vacuum is needed, it is ideal to use a vacuum without a power rotary brush head or a beater bar as they can also cause scratches. It is best to use a vacuum with a floor-brush attachment instead.  
2. Wipe spills immediately with a cleaning cloth and cleaner. Never use water or products that require you to add water  – water and wood do not mix! Using proper cleaning products is key to preventing deformation and warping of hardwood. We highly recommend commercial wood cleaning products such as Bona. For the best results, make sure to follow the manufacturer's instructions!
3. If your floor needs more than just a quick sweep or dusting, it is best to use a small amount of cleaner and directly spray it on to a terry cloth mop head. Always clean in the direction of your floor boards – length-wise, this will prevent streaking. Like stated previously, water and wood do not mix, therefore you need to make sure your mop is damp, not wet. From there, you can wipe up the excess cleaner with a dry towel.
Bonus tips: Place doormats inside and outside of your doors to stop dirt and grime from entering your home. The doormats will catch majority of the dirt and grime on your shoes which will ultimately help in preventing hardwood scratches and damage from dirt or small stones. Another tip for those who love the look of a rug on hardwood, it is ideal to occasionally move the rug to prevent hardwood discolouration that can form from sun exposure.
With beauty comes maintenance but we promise you it will be worth it! Having knowledge on how to better care for your wood flooring is key to making them last. With these tip, you will surely fall in love with your hardwood floors again!