Hardwood flooring is a popular choice for new home buyers and those looking to upgrade their flooring. Hardwood floors offer durability, variety, and a classic flare everyone loves, so it is a no brainer as to why wood is such a popular choice! Because wood flooring comes in a variety of colours, the struggle now is determining which colour you should commit to: light or dark hardwood? Let's discuss the pros and cons of both styles to bring you closer to your final decision:
Dark Hardwood Flooring
Dark hardwood is typically found in formal spaces but in recent years, more and more casual and rustic-themed places are adopting this style. A big perk with dark hardwood is its ability to be easily achieved, regardless of what wood type you end up with. With stain, it is easy to darken and customize your wood flooring, whereas with lighter flooring it is much more limited.
The down side to dark hardwoods are that imperfections, dust, and dirt are much more visible. Ultimately impacting the amount of maintenance needed to keep your floors looking fresh and clean. However, with a low-luster or a matte finish, you are able to combat some of these complaints to a certain extent.
Light Hardwood Flooring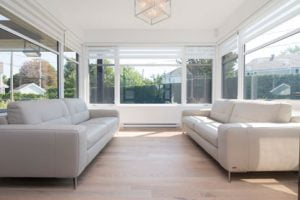 The light hardwood trend has been booming these past few years. We believe its popularity stems from the airy, beach-like vibe it gives off, along with adding a unique modern touch to your space. The ideal wood picks for light wood flooring are: oak and maple.
Light woods do a fairly good job at hiding dirt and dust, resulting in less maintenance needed but still very important to stay on top of! Both options are great for durability and variety, so your final decision all comes down to preference and functionality! Ask yourself these questions: 
How big is my space? If your space is small and enclosed, it is best to go for lighter wood flooring as it makes the room appear larger, especially if it is a space without windows.
How much time a week can I put aside for floor care? Extra time = dark hardwood, less time = light hardwood.
Do I have pets? Keep in mind that imperfections show more on darker surfaces, including fur!
What kind of mood am I going for? Dark wood offers a mature, cozy, and sophisticated feel, while light wood offers a airy, bright, and minimal feel.
Have more questions about the pros and cons of dark vs. light hardwood? Ask us! We are always ready to help.